IIRR 8 Row Seeder 
Technology Profile 
A row seeder (also known as drum seeder) sows the pregerminated paddy seeds in the rows at spacing of 20 cm in puddle soil. There is saving in the cost of cultivation to the tune of 35 per cent by using this device.
Context 
The advantages of the machine are
Lightness of the machine

Ease of fabrication at any local workshop

Ease of operation with one operator

Low cost

 
Direct sowing Row seeder with wider spacing ( 25 cm X 25 cm) SRI - drumseeder: A row seeder (with a spacing of 25 cm row to row) sows the pregerminated paddy seeds in the rows at a spacing of 25 cm in puddle soil. The other principles of SRI can be well adopted with this seeder to enhance the productivity. The drum seeder is under testing at DRR to save seed and enhance profitability.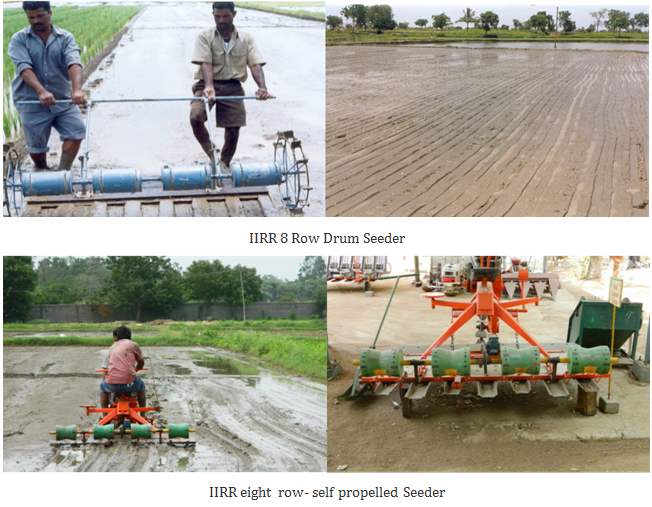 Practical Utility/ Scalability 
No of rows                           : 8 
Row spacing, cm                  : 20 
Field capacity, ha/h              : 0.235 
Power source                      : 4.0 hp Diesel engine 
Unit Cost, Rs (approx)          : 55,000 
Cost of operation (Rs/ha)      : 740
Carrying out timely operation and reducing cost of cultivation is the prerequisite for enhancing the production and productivity of rice and as well as to make rice cultivation commercially viable and profitable enterprise for the farmers. Selective mechanization can help to achieve this goal.