Rice Knowledge Management Portal (www.rkmp.co.in)
Technology Profile 
Rice portal is the first step in terms of the application of ICTs and KM strategies in agriculture to build a product like this semantic portal with enormous content. RKMP is the most comprehensive and one stop shop source for credible, validated, relevant and contextual information on rice. 
Built on web 2.0 standards, this portal caters to location specific information needs of many stakeholders (policy makers, farmers, extension professionals, researchers, traders, NGOs etc.,) on 24X7 basis. IP based customization helps individuals to browse through location specific content. Providing content in local language is another striking feature of this portal. 
Key features 
Largest database of Location specific content More than 15000 pages of content on rice

AICRIP Intranet & 27000 AICRIP Datasets

Online soil health and fertilizer recommendation system (Fertimeter)

Complete Image Driven Diagnostic tool

Two E -Learning Platforms- 14 Courses

52 Video clips and 4000 minutes of audio voice- over

India Rice Research Repository

3 Audio Courses & 2 Video Courses

45 Theme papers

Communities of Practice

GIS map interfaces area, production and productivity

More than 100 rice recipes and value added products.

Trade Information System

Cloud tagging and semantics enabling the content tagging.

Content available in 7 local languages

Bio-Informatics Tool for rice researchers

150 Recap sheets
Context 
To meet a production target of 125 MT by 2025 coupled with doubling farmers income, productivity of farmers need to be increased primarily targeting the small scale farmers. Indian rice research and rice development programmes have been recognized as successful model endeavors all over the world. Enormous knowledge is continuously being developed different players through different programmes and there is a need to share the knowledge. The least expensive input for any improved rural agricultural development initiative is adequate access to knowledge and information in areas of new technologies, information on inputs availability, credit, market, value addition. The advent of new age information and communication technologies like Rice Knowledge Management Portal provides enormous opportunities to explore web and mobile based access to rice related information and knowledge.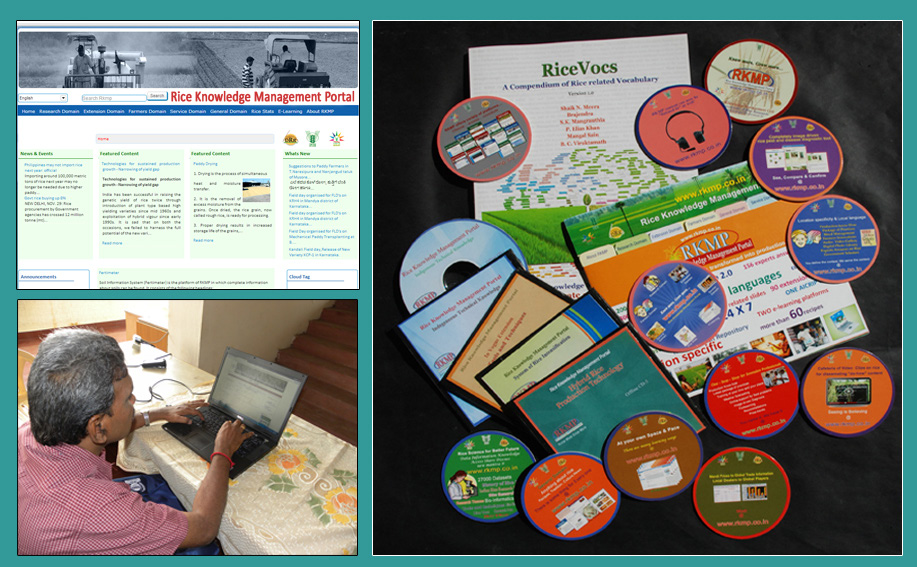 Empirical Evidences
RKMP is recognized as finest ICT innovation by FAO, APAARI, CGIAR system, various national and international agencies. RKMP is the largest resource for e-learning material on any single crop. 
www.apaari.org/wp-content/uploads/downloads/2013/07/ICT-Success-Stories_09072013.pdf 
'Rice Knowledge Management Portal' project (2009-14) was noted for its large scale operations and development and deployment of a number of advanced practices in web and mobile technologies, GIS and learning technologies. Independent observers noted that this effort has transformed the way rice knowledge is harnessed among the stakeholders in India with B: C ratio of 1.46:1.0. This portal is the first national level one-stop-shop for rice knowledge in India, which is a semantic web portal build on web 2.0 standards with 2600 registered users and average online users of 900 per day at any point of time and a total hits of 9,67,000. Perhaps, this is the most comprehensive source for credible containing 15,000 pages of validated, relevant and contextual information on rice to this scale anywhere in the world. 
Practical Utility/ Scalability 
The all-rice portal serves as an information highway for rice sector in sharing general rice knowledge along with specific content for 15 states in English, Hindi, Telugu, Tamil, Kannada, Marathi, Punjabi, and Bengali. RKMP hopes to serve the wide range of stakeholders like farmers, extension professionals, researchers, traders, NGOs, policy makers, etc. and help in better planning and realizing higher productivity & production of rice by the farmers through improved knowledge and skill. Through one of its domain exclusive for rice farmers namely "Farmers' Domain", the portal provides range of critical information like package of practices and production know how in English and local languages as well provided with the help of the credible information sources like state agricultural universities and various organizations of that particular state. Completely Image Driven Diagnostic tool is developed exclusively for the extension professionals and farmers to diagnose the field problems based on the stage of the crop. 
The largest rice database of location specific content also helps the farmers to know about the soil health and fertilizer recommendation system through online Fertimeter application. Also, the exclusive and exhaustive information on weeds aims to make wise decisions in weed management. To enhance the export opportunities for rice from India, Trade Information System of RKMP delivers the trade information at different markets all over the World and Exports & Imports information of Rice. The portal caters the needs of the other stakeholders through service domain, general domain and E-learning. The portal developed through the latest ICT tools envisions supporting mobile telephony and will also help agricultural departments' ongoing activities in reaching out to the farmers through extension advisory services, in most effective way. 
The private companies are keen to utilize the portal and Mahindra Samridhi, Savannah Seeds etc., expressed their interest to integrate RKMP along with their activities. RKMP is now blended with various ongoing ICT projects such as Annapurna, KCC, CSC etc. Several ICAR institutes have started emulating the model.