DRR Dhan 45 - The first zinc enriched rice variety of India
Technology Profile 
Utilizationof biofortified rice is a promising strategy helping the poor to meet their daily micronutrient requirement.
DRR Dhan 45, India's first zinc - rich and high yielding variety was developed at ICAR-IIRR and released in India during 2015.
Developed from the cross IR 73707-45-3-2-3/ IR 77080-B-34-3, it is a biofortified semi-dwarf medium duration culture (~130 days) with non-lodging plant type and long slender grains recommended for cultivation in irrigated ecosystem yielding 5-6 t/ha.
It recorded 22 ppm Zinc in polished seed which is higher than the checks (Kalanamak: 20.4ppm) and Chittimuthyalu: 20.7 ppm). 
It possessed good cooking quality traits namely intermediate amylose content (21.1%), intermediate ASV(3.5) and Gel Consistency (54 mm). 
Context 
Although rice is a major food crop, it is a poor source of essential micronutrients such as Zinc leading to hidden hunger (malnutrition).
Globally zinc deficiency is a major health problem affecting  nearly 17.3% of the population. It causes stunting, reduced immunity, poor cognitive development and mortality among consumers.
Hence the genetic enhancement of rice with increased levels of Zn is a cost-effective strategy in combating  malnutrition.
The concerted efforts made for developing nutritious rice varieties at ICAR-IIRR during 2004 consequently led in the development of DRR Dhan 45 (IET 23832), a high yielding Zn rich variety (22 ppm) during 2015. 
Empirical Evidences
DRR Dhan 45 was notified at national level with 5-6 t/ha yield potential and average zinc content of 22 ppm in polished rice.
Multilocation evaluation testing during 2013-14 in AICRP- biofortification trials showed its superior performance in the states of Tamil Nadu, Karnataka and Andhra Pradesh wherein it has out yielded the popular yield checks namely Samba Mahsuri and IR 64 by a average yield margin of 37.1% and 17.2% respectively.
In Tamil Nadu, IET 23832 surpassed the Samba Mahsuri and IR 64 by a yield margin of 70.2% and 60.3% respectively.
In Karnataka, it gave 47.8% and 24.5% more yield than Samba Mahsuri and IR 64 respectively.
Similarly, IET 23832 outyielded Samba Mahsuri and IR 64 by a yield margin of 8.3% and 15.5% respectively in Andhra Pradesh
DRR Dhan 45 is  a  proof  of  concept  for  Biofortification  and  can  address  the  hidden  hunger or mineral malnutrition, thus targeting nutritional security of the nation.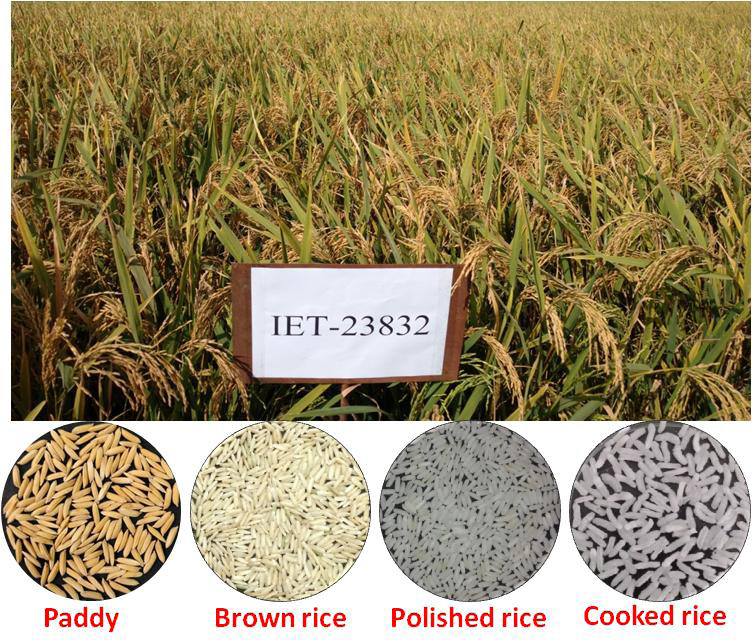 Practical utility/Scalability 
In India people depend mostly on polished rice based foods as daily diet which is generally deficient in Zinc. Poor people can't afford to buy supplementary foods as well as zinc fortified processed foods to have adequate supply of Zn.
Diet involving biofortified rice helps in meeting daily requirement of Zn (7–13 mg per day for adults) and thereby improving the health of human beings.
Also  consumption   of   biofortified   rice   cuts   down   the   expenses   otherwise   incurred   on supplementation and fortified foods of Zn particularly among the poor people. Hence consumption of DRR Dhan 45 is alternative to mitigate Zn malnutrition.